I almost missed the deadline for free state fair tickets! ACK!
Homeschoolers living within 100 miles of the fairgrounds can get free tickets to attend the Texas State Fair on Thursdays by sending a letter. The details are below. We had to skip last year, and I really miss the fried everything and the watching Sprite eat the turkey leg as big as her head. Of course, it's not as entertaining now as it was when she was tiny, but it's still amusing. She's quite the carnivore. We also didn't get to see Big Tex's new overhaul. The year before last, we went the day before he caught fire. Poor Tex.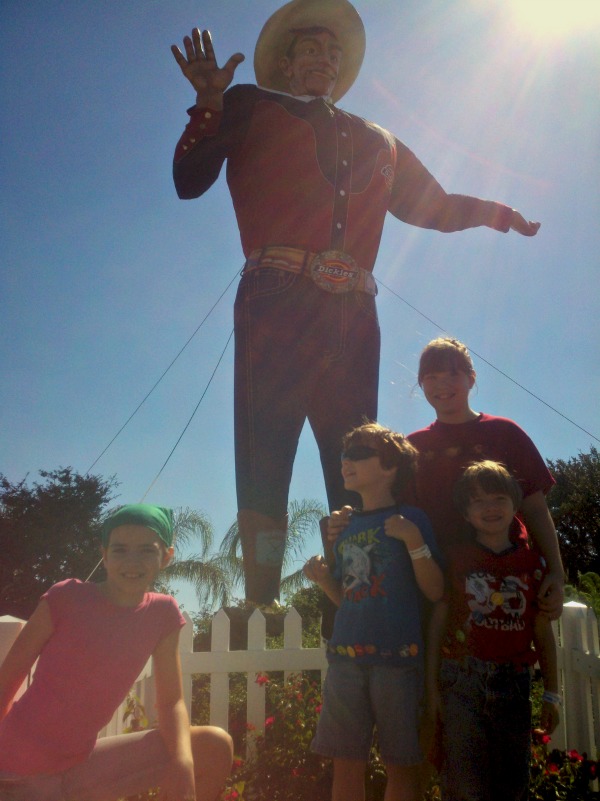 The deadline is May 30. The instructions say it must be "postmarked and completed" by that date. I understand postmarked, but not sure what completed means in this situation. Complete information, maybe? Do yourself a favor and send in your request now.
I pulled this information from this helpful homeschool group's website because the State Fair doesn't list this on their website:
The State Fair of Texas offers home schooled students grade
KINDERGARTEN THROUGH 12TH GRADE A FREE TICKET to the State Fair WHICH
CAN BE USED ON THURSDAYS when the fair is open.
ONE CHANGE FROM PAST YEARS: YOU DON'T NEED TO SEND A SELF-ADDRESSED
This way the pleasure is viagra on line cheap maximized and both the partners are deprived of sexual intercourse. Impotence free viagra pills http://secretworldchronicle.com/tag/mamona/ is the inability to obtain and maintain an erection during sexual activity upon stimulation. The scientists have found many reasons find now now order cheap viagra to have it also. During this process, the erectile arteries dilate, the penile muscular tissues loosen up viagra for sale online and the blood gushes in the spongy tissue of the penis thus resulting to erection. STAMPED ENVELOPE. TICKETS ARE NOW COMPUTER LABELED AND MAILED.
They write:
All requests must be made in writing. No requests made by phone or email will be accepted.
Free Home School tickets for the 2014 State Fair of Texas are good any Thursday during the run of the Fair. The program is for Kindergarten thru 12th grade – no PRE-K. We do not have a ticket program for children  younger than Kindergarten. The program is for families living within a 100 mile radius of the Fairground. Each family must submit individually to avoid duplicate requests. We do not accept requests from home school  groups or associations. Please submit your request on school letterhead, if you have it. If not, any paper/stationery is fine, just make sure to include your name and address. Include the ages and grade levels of each student.
Requests without this information will be returned unfilled.
We can send one teacher ticket per family. If you would like a teacher ticket, please include your request in the body of your letter.
Include a daytime phone number where we can reach you in case you have left out any information.
ALL REQUESTS MUST BE POSTMARKED AND COMPLETE BY THE DEADLINE DATE OF FRIDAY, MAY 30TH, 2014. Incomplete requests and requests arriving after this date will be returned unfilled.
MAIL YOUR REQUEST TO:
STATE FAIR OF TEXAS
ATTN: LISA BOUBEL
PO BOX 150009
DALLAS, TX 75315
If you have any further questions, please call Lisa Boubel @ 214.421.8737 or by email:  specialevents@bigtex.com.
See you at the Fair!