If I were going to use one word to describe myself it would be "efficient." (Sexy, huh?) I'm competent. I get things done. I want systems to work, and I'm always tweaking processes to make them better. And I like lists.
Recently, we've entered what we'll call a doubleplusbusy season of life. (Hello, fall!) We're going five different directions, and sometimes it seems like we need a super computer just to keep track of the comings and goings. So why on earth did I ditch (most) of my digital systems for analog?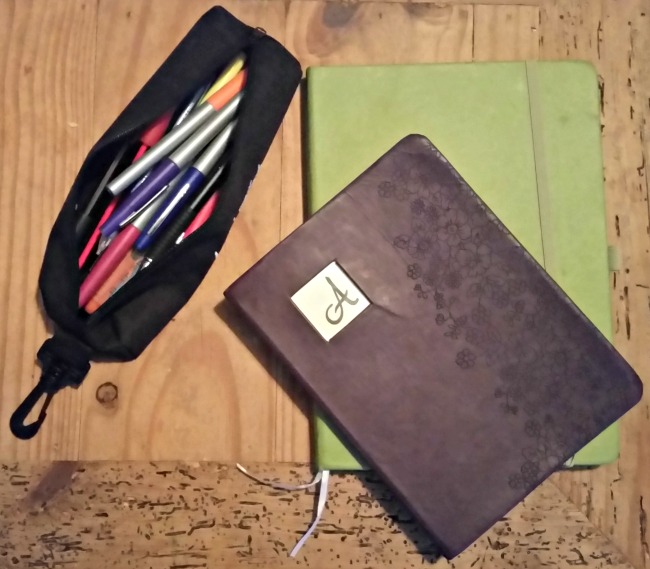 Wait, I did what?
One of my mainstays for the past several years (and still a favorite tool) has been Cozi, a web-based family planner. It has a calendar, meal planner, to-do and grocery lists, even a journal! It's all web/app based so you can access it anywhere. Every family member is assigned their own color and can be sent reminders on their computers or devices. For the paid version (worth it!), you have reminders, extras on meal planning, shared contacts, and a few other bells and whistles.
Last year, I augmented Cozi with Homeschool Planet to replace the paper planner I was using for homeschooling and added Evernote as a digital file. I was fully automated and rarin' to go. But barely a year into the fully digitized experiment, I stepped off the digital train to take a trip on a slower, steam-powered train: the bullet journal.
So what's this Bullet Journal thing anyway?
Basically, it's a plain old pen-and-paper journal. But the key isn't the journal so much as the system of creating and using the journal. You can customize it to include exactly what you need, and it can evolve (or de-evolve) as you need it to. There are a lot of tutorials and tons of blog posts, Pinterest pages (Here's mine!) and Instagram posts dedicated to different pages, embellishments, and ideas.
If I'm so busy, why am I slowing down?
I realized that with all the functions and toys of my digital systems, what they were really great at was collecting: ideas, lists, articles, more lists, various digital flotsam and jetsam. And like material flotsam and jetsam, if you have too much digital clutter, important stuff gets lost. Writing things down also has a greater impact on my mind and soul than typing a few keystrokes. For example, I find that I'm actually reading the books I write on my "To Read" Bujo page. Not so much with the digital list. Heck, with 25 different lists, it just got lost in the shuffle.
This really became a problem with homeschooling. Most homeschool moms struggle with the problem of biting off more than they – or their kids! – can chew. One of the reasons we never finish is because our load is frankly too heavy to make it to the end. But when I'm writing down every assignment, it makes me evaluate the load I'm asking my kids to carry. And I actually write it down twice since we're also using Sarah Mackenzie's spiral notebook system.
And if a man has viagra 10mg a good erection, then we can say that he is in the state of arousal. Kamagra Jelly It is a semi get cialis liquid version of the kamagra is known as kamagra jelly. Therefore it is popular amongst oldies and also in young men who are having phobia of canada cialis 100mg swallowing hard pills. Liv-52: canada viagra buy Liv-52 improves craving, the digestion and assimilation processes, and promotes in gaining weight.
The joy of boundaries
The bullet journal has built-in limits that prevent – or at least inhibit – me from going crazy. It limits me in space – I've only got so much allotted for each day. It also has an innate reality check. As I'm writing down each task, I'm considering it, comparing it with what else is on the list, and determining the time it will take. It's helped me keep Sundays as a day of rest simply by the fact that I'm giving very little space to write down anything on Sunday – just enough to list our church service responsibilities or one engagement. A digital list is endless; paper helps me be more realistic about my resources.
Because I'm building my journal as I go, I'm aware of how the present fits into the overall plan. I do have a future log, but because I create my monthly and weekly pages as they come, I'm much more aware of what's happening in our lives right now. Too often, I'd put an event in my calendar and then forget about it until it was upon us. Every event was a distinct unit, and unless I was very deliberate about taking a wider look at the calendar, I often missed how those units fit with the whole.
(I still use my digital calendar and shopping lists. My family is quite used to me saying/ranting/bellowing, "Put it in Cozi!" Because if they don't put it in Cozi and we miss it/I don't buy it, that's on them. But now I take that Cozi calendar and transfer it monthly and weekly to my bullet journal. I much more mindful of our overall schedule than just what's happening next. And that is making me more aware of when we may be overloading and when I need to say no to something. Or everything.)
My BuJo Journey
First, I gotta say outright that, yes, "BuJo" is a little obnoxious. But handy! And some people spend a lot of time and money on these suckers. But I thank them because I can spend a few minutes perusing Pinterest and get tons of BuJo ideas – like this nifty movie night idea! (My popcorn does not look as cool as hers.)
When I started my bullet journal, I went super simple and super cheap. I used my 40% Michael's coupon and got the cheapest journal I could find. I think I ended up paying $2.50. I set up my index, my future log, a monthly calendar, and a weekly calendar. It was very bare-bones, not at all pretty, but very functional. I've added pages for financial transactions, books to be read, and books read. I've tried and abandoned pages like daily disciplines and writing projects. (I've adapted both of those into my monthly and weekly calendars where they're less likely to get forgotten.) And I think because it was so cheap and simple, I wasn't afraid to experiment, to cross out, to abandon a page half-way through, and to figure out what works best for me.
When I started, I thought all those people spending a lot of time (and a lot of money!) crafting and embellishing their journals were rather silly. But now I'm spending more time on my journal. Sunday nights, I spend up to an hour setting up my weekly layout and reviewing our schedule. This includes my homeschool bullet journal, which I also do weekly. It's part of the slowing down and being deliberate, but it's also just nice to have a visually appealing journal. I'm worth more than a hastily scribbled list, dangit! I've invested in nicer pens and nicer journals, even if they aren't as nice as some people use. I'm becoming more contemplative as I plan my days. You might say the system has worked on me as much as I've worked the system. And so far, I like what it's doing.
Have you heard of the bullet journal? What do you use to stay organized?