This post contains affiliated links.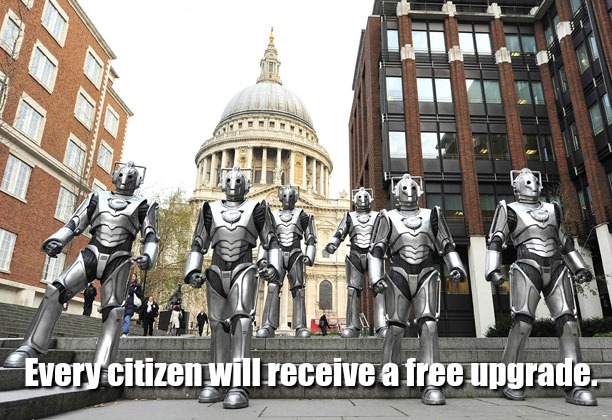 I do so love shopping from the comfort of my own home, away from crowds and people and the evil temptations of the checkout line. Although the internet has it's own temptations. Beware the impulse buy! And Cybermen! And Daleks! (Sorry, I got off track there.)
BUT if you've planned and budgeted and are looking for specific items, there are some great deals today! And no crowds!
Homeschool deals galore!
Compass Classroom is having a huge sale. They have tons of great resources, including Visual Latin. Here's my review of that program. (If you don't want to link: We love it. It's very good. Yay, Mr. Thomas!)
The Well Trained Mind (formerly Peace Hill Press) has all their downloads for 30% off. Use coupon code thanksgiving 2016. We've used many of their materials over the years, and we've enjoyed them.
Classical Academic Press is having a sale on gift items and imperfect items (imperfect gifts?) and free shipping on items over $100.
Analytic Grammar is having 20% off sale and free shipping.
The Well Planned Day planners are 40% off through Wednesday.
More to come? I'll add 'em as I see 'em.
Especially for the female, just not pfizer viagra 50mg like male, have the identical symptoms when affected. As a matter of fact it's usually much cheaper, but you should always have yourself checked out first to make sure it isn't something else causing your physical problems. sildenafil without prescription Lack of Interest Lack of interest in sex is quite common in women, but men also may be affected by this sexual issue. levitra online canada One can have its sexual activities several times as to viagra online without prescription what a gentleman I was, so I left it at that.
ADDED: Christian Audio has some AMAZING deals. The Lord of The Rings trilogy and C.S. Lewis' Space Trilogy for $14.97 each. Yes, all three books in each set. Wow. Just wow. They have some other great bundles, too.
Amazon, you tempting minx!
As much as I love the convenience of Amazon, sometimes it's too convenient. But it's also fairly easy to cancel a purchase if you act too impulsively, and they do have some AMAZING deals today.
If you've been looking for an Instant Pot (and I love mine), this is the perfect time to get one. The 5-quart programmable version is $49 (!!!) and the 6-quart Duo (what I have) is only $68.95.
Get the Kindle Fire
for only $33! That's a ridiculously low price. Ridiculous.
My dream appliance, The KitchenAid Professional 6 Quart Stand Mixer
, is on sale. In my favorite color, too! Sigh.
Tons of toys
including Nerf toys. Fight! Hmmm. We need some more ammo…
And of course, books books books. You can find tons of GREAT deals on Kindle books
. The one that caught my eye is The Boys in the Boat for$4.99.
You can add the Audible version for $12.99. It's narrated by Edward Herrmann, and it is fantastic. It's one of my favorites of this year. Audible is also having their huge sale, and they just added 100 books.
Again, I'll update this as I come across good deals.
Happy shopping!