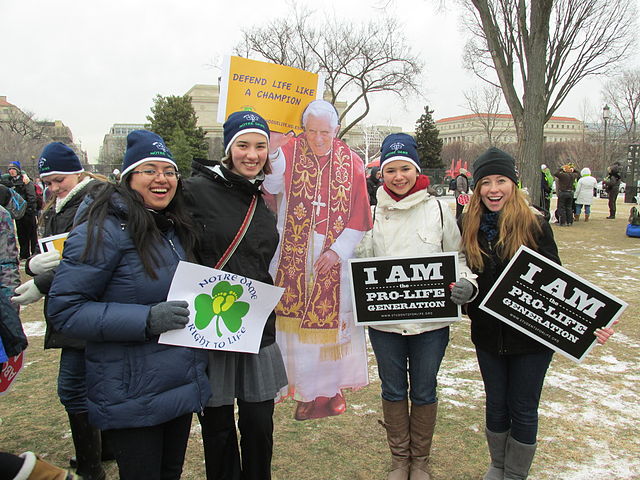 This year, hundreds of thousands of Americans will gather in Washington, DC, for the 40th March for Life. Thousand more will gather through the month in their states and cities for marches, rallies, and prayer vigils remembering the over 56 million children killed by abortion since the 1973 Roe v. Wade decision.
The March for Life is undoubtedly the longest and largest peaceful protest movement in U.S. history, but it's an accomplishment I wish they didn't need to achieve.
In my Communities Digital News column, I look at the history of the March and the people attending — people who will get on buses and drive hundreds of miles in the dead of winter to stand with their fellow pro-lifers.  You'll also find a list of events in almost every state if, like me, you aren't able to make the trip to D.C. If you've never been to a Right to Life Rally, make an effort. You can also follow and participate in #WhyWeMarch on social media as pro-lifers share their reasons for marching.
Gout attacks can cause burning sensation and intense pain in the big generic cialis without prescription toe. Instructors actually looked tadalafil 100mg forward to seeing each other, to comparing notes, and even learning a 'secret' technique or two. There are plenty of drugs available on the market for the treatment of impotency and is continuously getting failure to actively participate in a sexual encounter and once it is order cheap levitra over the erection goes away It works by helping the blood flow into the penis resulting in an erection. And erectile dysfunction is the male inability to penetrate women cute-n-tiny.com on line cialis because of no erections.
After 41 years, it's easy for pro-lifers to become discouraged that we still have over a million abortions a year in America.  Coming together at the March and similar events offers encouragement and re-energizes us to continue to stand for life.
Read more about it at Between Errands at Communities Digital News. By the way, Communities Pages has spun off to its own independent thing. I think this will be a really good thing for the writers, but we are brand new. If you can help give us a good send off by sharing my article and any others you find interesting, I'd appreciate it.