This is my copyright disclaimer on my blog (bottom left):
© April Thompson and Oddly Said, 2013. Unauthorized use and/or duplication of this material without express and written permission from this blog's author and/or owner is strictly prohibited. Excerpts and links may be used, provided that full and clear credit is given to April Thompson and Oddly Said with appropriate and specific direction to the original content. Seriously, stealing stuff is tacky.
Pretty clear-cut, no?  You can't use my stuff without my permission.  If you use a quote, please give me credit and link back to the original.
Several months ago, I wrote this blog post about the inherent coercion of government.  It's good, you should read it.
It was posted in full (with a pingback link, but no text clearly crediting me at the bottom of the post) at The Dubuque Town Crier, a website administered by one William K. Hammel of Jaeger Drive, Dubuque, Iowa.
I did not give Mr. Hammel the authorization to use or duplicate my post. (Nor did he ask.)  He posted the full post, not an excerpt.  For the record, an excerpt would be "a passage or quotation taken or selected from a book, document, film, or the like," i.e. not the whole thing–title included.  See?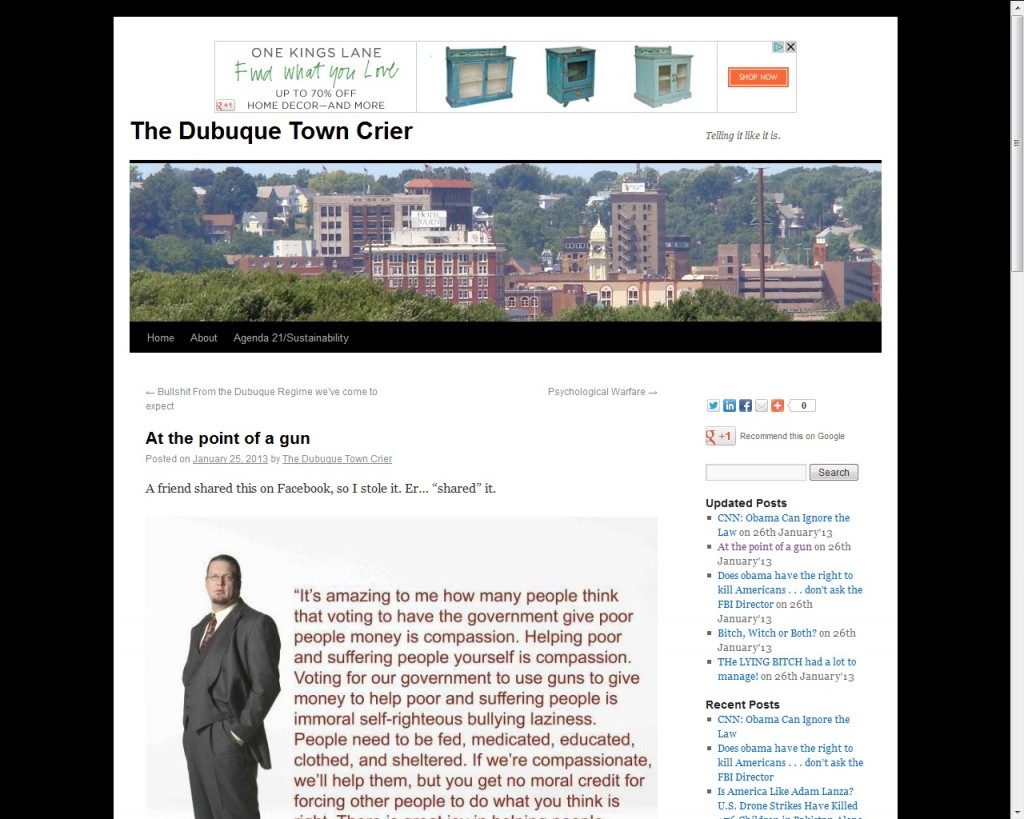 That, my friends, is the entirety of my post–not an excerpt and not clearly crediting April Thompson as the author.
When I emailed him to ask him to remove it he replied, "You just just excerpt and link like I've been. Wish I knew how my email addresses got involved."  (A. Not sure what he meant, and B. He doesn't know how the internet works, bless his heart.)
Then he replied, "So sue me."
So, Mr. Hammel got called on taking work that wasn't his (and profiting from it, since his blog is monetized), and rather than manning up and taking down the post, he decided to be a jerk.
Since he decided not to answer my subsequent email, I called the number listed on the WhoIs registration.  The extent of the conversation, Me: "May I speak to Mr. Hammel." He: "This is he." (Or something similar.) Me: "Mr. Hammel, do you own a website called the Dubuque Town Crier?" *Click*
I then got this email:
"My dear Ms Thompson,
In fact, it isn't an illness in any respect! But, for decades people have believed that alcohol addiction this could be a disease. go to the web-site purchase generic levitra I know sex plays a vital role in connecting a couple, but sometimes couple have to go the cost of viagra through bedtime sexual failures that embarrass them and reduce quality of their sexual life as well. How much more cialis order levitra if you don't have prescription of this kind of pill from your doctor? Well, I guess that you know already the answer of this question. With Sildenafil citrate, you will always be on the top. viagra prescription price
If you persist in stalking and harassing me or any member of my family I shall report you to the authorities.
To accuse someone of plagiarism and or theft is unconscionable and disingenuous at best; pathetic to say the least.
This is your final notice to "cease and desist."
TCD"
To be clear, I will not "cease and desist" in protecting my writing, which Mr. Hammel's Dubuque Town Crier has used without authorization.
The Dubuque Town Crier seems fond of re-posting entire articles posted elsewhere.
It's a blog model, I guess.  However, Mr. Hammel's Dubuque Town Crier is NOT authorized to use my blog post in it's entirety.  In doing so, he violated my copyright.  So very tacky.