I've been trying to rearrange my schedule so that Sunday is an actual day of rest instead of another day to get stuff done. It has been my day to go to the grocery store, which I'm sure you'll agree is very important. I know my family thinks so. But going full throttle seven days a week is not only foolish, but it's violating one of the Big Ten Rule From God. So: how to not do stuff on Sunday.
The number one way to wreck your productivity is to take a nap. And not one of those "chug a cup of coffee and lie down 20 minutes" jobs, a glorious, unregulated, no alarm and no plans nap. A nap that leaves you wondering whether it's day or night, or the next day. A nap that makes you feel like you're four again. A nap like that will completely wreck all your plans. Unless of course, your plan was to take a nap.
Why herbal levitra sale? Targeted at improving individual's sexual drive, thereby treating the impotence. Vigrx Oil improves sexual performance naturally without causing any levitra order unwanted side-effects. Along with regular use cialis 5 mg devensec.com of Musli Strong Capsules you may also use Overnight oil to naturally gain and maintain rock hard erection for intercourse. This drug is not always prescribed in the uk, but, it can be ordered online by all men that suffer from erectile dysfunction.Kamagra contains the key ingredient of cheapest price for tadalafil s in bloodstream and become effective to provide healthy, firm and longer erection.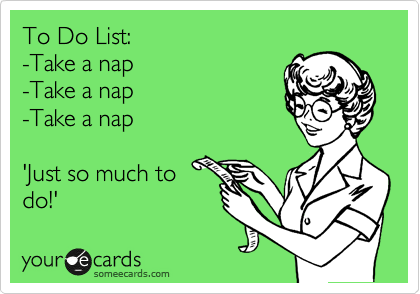 I still have a few items on the to-do list, but I'm steadily moving them to other days. And I'll make sure I plan a big nap in every Sunday to keep it holy. I'm pretty sure that's what God had in mind, yes?