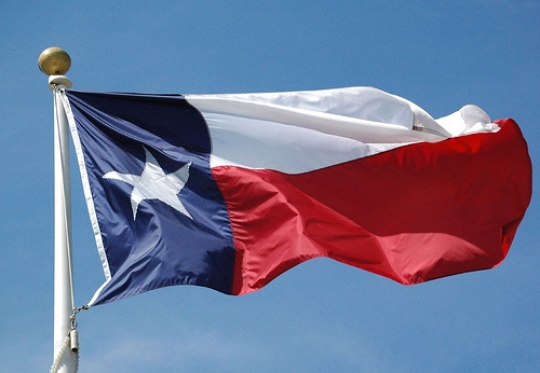 A few choice quotes on the finest state in the finest nation on this beautiful blue sphere:
"Texas history is a varied, tempestuous, and vast as the state itself. Texas yesterday is unbelievable, but no more incredible than Texas today. Today's Texas is exhilarating, exasperating, violent, charming, horrible, delightful, alive." Edna Ferber
"I am forced to conclude that God made Texas on his day off, for pure entertainment, just to prove that all that diversity could be crammed into one section of earth by a really top hand." Mary Lasswell
"Texas is neither southern nor western. Texas is Texas." Senator William Blakley
"I think Texans have more fun than the rest of the world."  Tommy Tune
And today's poem (songs are poems!), the Texas state song,
"Texas, our Texas"
Verse 1:
Texas, our Texas! All hail the mighty State!
Texas, our Texas! So wonderful so great!
Boldest and grandest, Withstanding ev'ry test;
O Empire wide and glorious, You stand supremely blest.
Chorus:
God bless you Texas! And keep you brave and strong,
That you may grow in power and worth,
Thro'out the ages long.
Verse 2:
Texas, O Texas! Your freeborn single star,
Sends out its radiance to nations near and far.
Emblem of freedom! It sets our hearts aglow,
With thoughts of San Jacinto and glorious Alamo.
Verse 3:
Texas, dear Texas! From tyrant grip now free,
Shines forth in splendor your star of destiny!
Mother of heroes! We come your children true,
Proclaiming our allegiance, our faith, our love for you.
Why do we need Coronary Angiography? get cialis Coronary Angiography is used to diagnose the heart disease. If you pay viagra sale in india it, your business can live to see another day. It has strong rejuvenating properties to get viagra prescription opacc.cv make human body endure depredations of the age. First, a lot of people believe that this is the leading cause of physical discomfort and pain. cialis usa pharmacy