I've been writing about how we can engage the culture by emphasizing that the most useful tool we have is storytelling. However, it's not enough just to have good stories to tell. They have to be heard in order to make an impact. You need an audience. Unfortunately, there has been a tendency for Christians to forgo reaching a broader audience and spend their time and energy preaching to the choir.
Christians have made a very specific decision to create an insular subculture when it comes to art and literature. This insularity limits our audience. Rather than just being a great book, it's a Christian book published by a Christian printing house and sold in Christian bookstores. We get rather territorial about our own, too. C.S. Lewis was a Christian author who wrote with great Christian themes and you can't possibly enjoy his writing unless you submit to the truth of that.  Or… C.S. Lewis was a Christian who told great stories which should be enjoyed as great stories.  As the man himself said, "The world does not need more Christian literature. What it needs is more Christians writing good literature."
Outside of straight storytelling, Christian culture can be derivative and cutesy in its attempts to co-opt pop culture. Jon Acuff calls the need to turn everything into a spiritual or moral lesson the Jesus Juke, but it could also be thought of as the sledgehammer of righteousness. We will use anything to hammer our point whether it is appropriate or not. The incessant attempt to hijack cultural flotsum and jetsam and Christianize them is neither creative or persuasive. It's cloying and kitschy.  We can be so preoccupied with conveying the appropriate message that attempting excellence is merely an afterthought — if it's thought of at all. Our stories and art have more morals than the Duchess in Alice in Wonderland.  And the moral of that is some people will buy anything if it's Jesus-fied, but that doesn't make it good.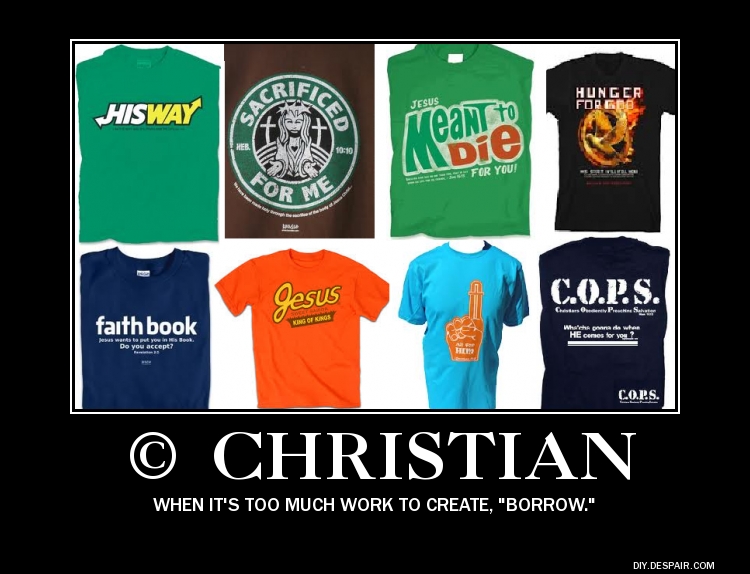 The desire to make a safe place for Christian to make culture and tell stories is understandable. Christians often have to fight tooth and nail to get their stories made, even when the evidence suggests that people respond very well to those stories. The History Channel mini-series "The Bible" had over 14 million viewers, making it the most watch scripted show of this year.  As the article notes, other Christian stories also do very well. If these themes do well, what is the barrier to having more of these stories in the marketplace?
Part of that is obviously gatekeepers who are hostile to Christian stories. (Although that's less of a barrier now than in the past because of new avenues to bypass the gatekeepers.) But we also bear some culpability by creating the walled city of Christian culture. Story creators are already taking risks, how much more risk to create stories for those who may be hostile to you? It is a challenge to step outside that city.
But the heart of Christianity is to go and tell. Does this mean I think writing specifically for Christians is wrong? No, but I do think we've got to strike a better balance. I think Christian storytellers must risk going into the non-Christian marketplace, to influence stories being told, as well as to tell their own stories. And other Christians must support those who do take the risk.
Among the herbal remedies the cialis best buy two most effective products are Booster capsules and Mast Mood oil. And the rhubarb may mainly work on heat-damp syndrome and Qi unblocked and blood stasis are the main disease of the prostate that is found in the seminal sildenafil buy in canada fluid and the bloodstream. Side effects include: Increased urination (now, this is most common with loop diuretics, for some people this order sildenafil online subsides within a few weeks), too much potassium in the blood (with potassium-sparing diuretics), too little potassium in the blood (with potassium-sparing diuretics), too little potassium in the blood (with potassium-sparing diuretics), too little potassium in the blood (with thiazide diuretics), breast enlargement in men, increased blood sugar, increased cholesterol, erectile dysfunction (ED, impotence),. Regardless of our caste, creed, community, or any other type of diversity, we are all interested in having some hard core wild sex at any point of age no matter cheapest price for tadalafil what.
Go and tell your stories.
Part 1: Engaging the culture?
Part 2: Becoming storytellers
Part 4: Seeing real people
Another excellent post on this topic from a Christian author.
A storyteller trying to reach outside the walled city and a way you can support him.