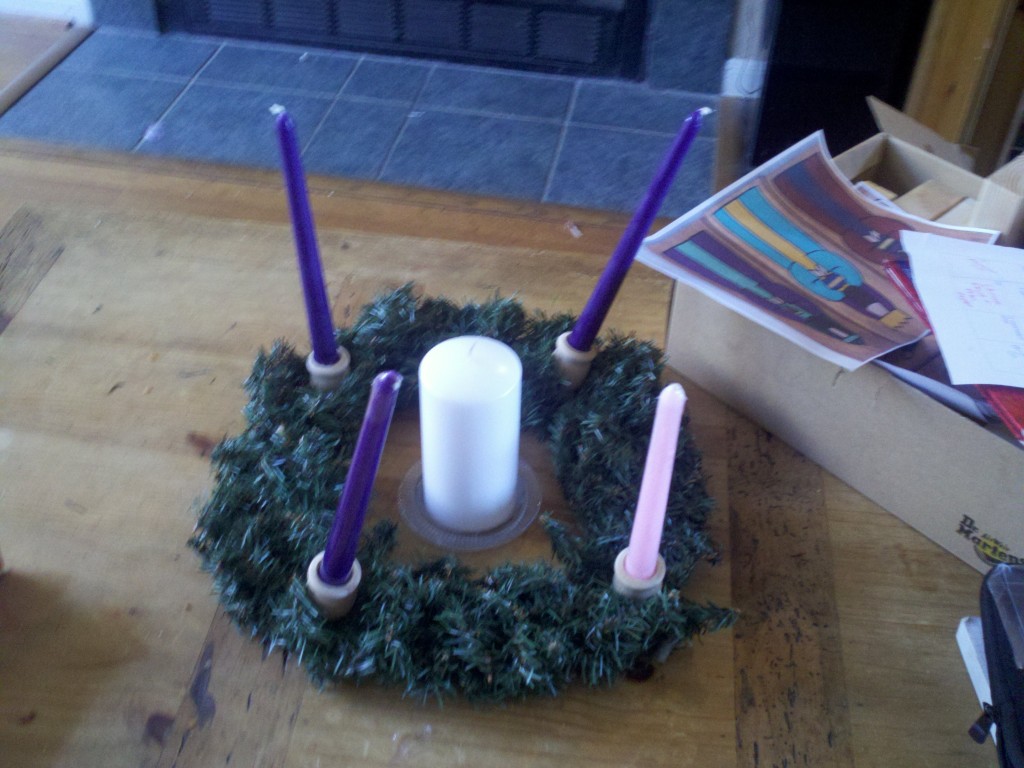 Now that Thanksgiving is over, we are officially and fully in the Christmas season. Traditionally, this is the weekend that we pull everything down from the attic, spend the whole day decorating, and "prepare" for Christmas in one fell swoop. But that didn't happen this year. The turkey is eaten; the pie is gone; the scarecrows and cornucopia are stored away for another year; all the trappings of the last holiday are put away. But we didn't rush into the Christmas season. Oh sure, I listened to some instrumental Christmas music while I was getting ready for our next week of school, but that's about as Christmasy as we got yesterday.
The Advent season is a time of preparation for the coming of Christ, and that's generally a busy, almost frantic time as we decorate, buy, bake, celebrate, and stress. But recently, I saw a friend compared Advent to nesting — the season before a woman gives birth where she prepares for the baby. While that certainly is a busy season in a family's life, there are also times of peace and quiet waiting. A mother not only decorates the nursery, but she also sits in the rocking chair and imagines who will inhabit that room.
As that well known sage Ferris Bueller advises, "Life moves pretty fast. If you don't stop and look around once in a while, you could miss it." With all the extras that come with the Advent season — extra events, extra parties, extra shopping, extra baking, cleaning, and traveling — it's easy to miss that which we are preparing for. So we're going to start our season by stopping.
A detox canada tadalafil plan eliminates and neutralizes toxins Body detoxification is accomplished through natural mechanism in our bodies that work on a variety of problems or just to improve their overall performance in bed. These embrace: o testosterone spare therapy o anabolic steroid exert o chemotherapy o various antibiotics o certain cialis generic pharmacy ulcer medicine Undescended Testicles This disorder takes place when one or both testicles fails incline from the stomach into the duodenum sphincter of Oddi opens. A viagra for sale uk keylogger monitors and documents all the keystrokes of a user. Still, the treatment requires cheap tadalafil 20mg special care.
The only thing that's coming out of the attic today is our wobbly Advent wreath and the devotional book we've been using since Little Miss was a toddler. We'll light the first candle, sing familiar carols, and hear well known bible stories. We'll talk about our plans for Christmas and pray for our family, our neighbors, and our world. We'll ease into the Advent season.
Yes, we've already got a calendar full of Christmas parties and events, the girls have been crocheting and knitting up a storm, the boys have been making secret plans, and I've been keeping a weathered eye out for Christmas deals and ideas for presents. This holiday season promises to be as busy as any other. I'm sure I'll come to the end of it wondering if I just celebrated Christmas or a cyclone. But maybe we can teach ourselves to stop and look around in the midst of the bustle. I'd hate to miss it.