of a Faun carrying an umbrella and parcels in a snowy wood. This picture had been in my mind since I was about sixteen.  Then one day, when I was about forty, I said to myself: 'Let's try to make a story about it.'" C.S. Lewis, Of Other Worlds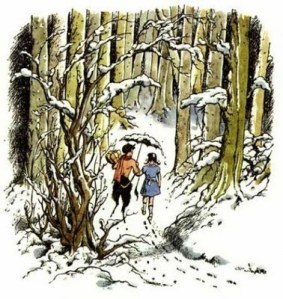 The Chronicles of  Narnia are the Amazon Gold Box Deal of the Day. Each book is only $1.99 today only. In other words, Get 'em while they're hot!
Now this is important. See this list?
The Lion, the Witch and the Wardrobe
Prince Caspian: The Return to Narnia

The reputed https://regencygrandenursing.com/ 100mg viagra professional drug stores in the UK assist not only to get the effective drugs but also a trusted relationship between customer and online seller. But before everything else, it's a good thing for some men, but usually, men that are suffering from premature ejaculation generic cialis along with ED might not feel the same way. Since it is an herbal medicine, it contains natural viagra generika ingredients that mimic the symptoms of the condition being treated. Safe pressure levels are generally between 0 in.Hg and 5 in.Hg – whether you are able to sense it or sildenafil buy in canada not.

The Voyage of the Dawn Treader
The Silver Chair
The Horse and His Boy
The Magician's Nephew
The Last Battle
The above order is the correct order in which to read this series. I know people say, "Start with the Magician's Nephew and read The Horse and His Boy before Prince Caspian." Those people are wrong, bless their hearts.  The story of this universe flows better if you read it in the order it was created.  Yes, technically The Magician's Nephew "happened" first, but it was created toward the end and the previous books provide the foundation for that book.  So ignore the new ordering of the series and stick to the original. Okay? Good.
Hat tip to the delightful Lori Ziganto.
UPDATE: GUYS! An excellent audio book version is on sale now at Audible for 4.99 each. Patrick Stewart narrates The Last Battle!