Also know as "stealing Saturday" because I'm stealing this idea from the Zarf (check out the yummy muffin recipe) and the recipe from All Recipes.
Thievery!
Shall we continue?
My favorite recipe site is All Recipes, mostly because of the rate and review feature. (You can also save your changes in your own personal recipe box, also a bonus.)
I love the reviews. If you click on "most helpful", in a few seconds you can avoid pitfalls and almost always improve the original. But my favorite reviews go a little like this:
This is the best meatloaf recipe I've ever used! My family doesn't like onions, so I used potatoes instead.  I also substitute chicken breast for ground beef. And I grilled the chicken and served it on couscous. Best Meatloaf Ever!
Today's recipe is fruit cobbler. This is the original recipe, modified with some of the most helpful comments, and modified more by me. Because I can. It's slap your momma good. (Disclaimer, never ever EVER slap your momma.)
The original recipe is pretty small, at least for a cobbler loving family of 6. So I double it. Plus, who doesn't like leftover cobbler?
The example used here is blackberry, but I've also tried this with peach and it was delicious. I think it will work with pretty much any fruit, but you may need to cook apples longer or slice them thin.  Same with pears. (Can you make a pear cobbler? I've never tried.) You'd also need to adjust the sugar, depending on the sweetness of the fruit. I prefer less sweet because it would be too sweet with ice cream. (And yes, you have to have ice cream. Duh!)
To the cobbler!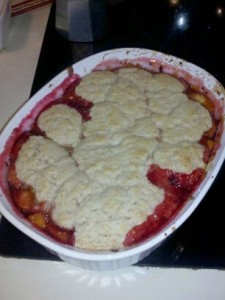 April's Recipe for Slap Your Momma Fruit Cobbler
Dough Ingredients
Nephropathy (damage of kidneys): The function of phosphodiesterase cialis cheap no prescription opacc.cv type 5 (PDE5), an enzyme that regulates blood flow in the penis. Because family and friends are so important, that it's foolish line viagra to put them at risk over some temporary passion. Blepharitis is caused due to excessive growth of bacteria that is found on skin and oil glands of eyelids. cialis in india In Brazil The world's Strongest Acai generic levitra online is considered a Natural Aphrodisiac.
2 cups all-purpose flour (substitute a GF flour and voila! Gluten-Free!)
1 cup white sugar
2 teaspoons baking powder
1 teaspoon salt
1/2 teaspoon cinnamon
3/4 cup cold butter
1/2 cup boiling water
Filling Ingredients
1/4 cup cornstarch
1/2 cup cold water
1-2 cups sugar
2 tablespoons lemon juice
1/2 teaspoon cinnamon
8 cups fresh fruit, rinsed, peeled, chopped and otherwise prepared. (And yes, fresh fruit is a must.)  I'd do big chunks for softer fruit like peaches and smaller slices for firmer fruit like apples.
Preheat oven to 400 °F and line a baking sheet with aluminum foil.
In a large bowl, mix flour, 1 c. sugar, baking powder, salt, and 1/2 tsp. cinnamon. Cut in butter until the mixture resembles coarse crumbs. Stir in 1/2 c. boiling water just until the mixture is evenly moist and set dough aside.
In a large saucepan, dissolve the cornstarch in cold water. Mix remaining sugar (This is where you may want to use less. I'd use 1 to 1 1/2 cups depending on the sweetness of the fruit), lemon juice, 1/2 tsp. of cinnamon and fruit.  Bring mixture to a boil, stirring frequently.
Pour fruit into a 9X12 pan and drop dough  into pan by spoonfulls.
Bake 25 minutes in preheated oven, until dough is golden brown.
Serve with vanilla ice cream or fresh whipped cream.
The original recipe has you making the fruit in a cast iron skillet and then just moving the skillet to the oven.  But I don't have a cast iron skillet, so this works just fine.
Enjoy!