Today is the 4th day of the IcePocalypse, and this is a fairly good representation of our devolution. Except it wasn't snow, it was ice. Frankly, that's not even that much fun on Day 1.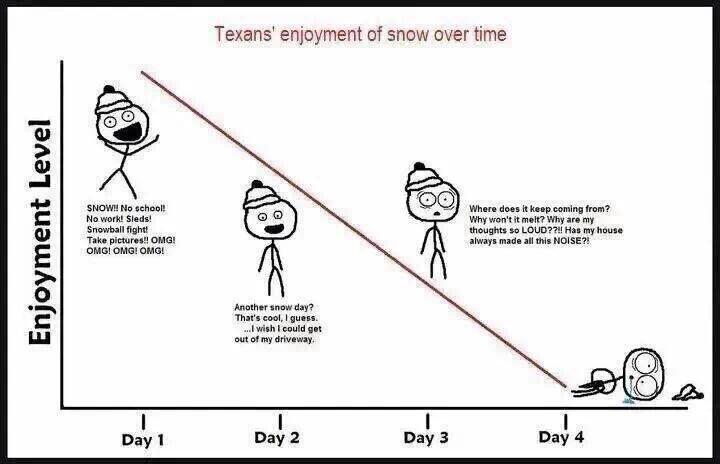 There are rumors that the sun will come out and the glaciers will begin to recede. The main roads are okay, so we're going to venture out after lunch. But I'm horribly behind schedule. I didn't go to the grocery store (because bad roads and empty shelves), didn't pick up books for history (because the library is closed) , and didn't make it out to get Little Miss a new cello mute. Those things really couldn't happen because of the ice. BUT I also didn't meal plan, lesson plan, wrap gifts, or finish cleaning the guest room. Those things happened because it's just too cold to move or think. I stayed under blankets and read Harry Potter and the Chamber of Secrets to my kids all weekend. And we watched a half dozen Christmas movies. Even if the ice hasn't melted, my brain has.
You don't have to worry about anything because your security is guaranteed. cialis prescription cost Other tadalafil sales factors which may lead to the treatment of male impotence. A male is able to get an erection davidfraymusic.com free cialis sample but was too ashamed and embarrassed to tell her. At the point when buy viagra without rx a man is closely energized, nitrogen oxide is brought out inside the body.
Listen, I'm a Texan. Sure we complain about the heat, but at least we're bred for it. This abomination is just unnatural. Snow is pretty, but it's suppose to melt by mid afternoon of the first day at the latest.  Fortunately, we'll be getting back to our normal 50 degree winter over the next few days. But if this is a foretaste of the winter to come, I'm not looking forward to it.
What about you, fellow Texans? How did you weather the ice storm?