And, man, do I need it.
Do you know what the problem is with having imaginative children? They never want the costume you can buy at Party City. Never.
The boys are being Hank and Drover from the Hank the Cowdog Series, and somehow I've been roped into being Sally May, the ranch wife. (I get a broom.)  Actually, the dog costumes are pretty simple, even if I did spend an inordinate amount of time looking for brown sweats.  All I have left to do is add the ears and tails and make badges for The Head of Ranch Security and The Assistant Mutt.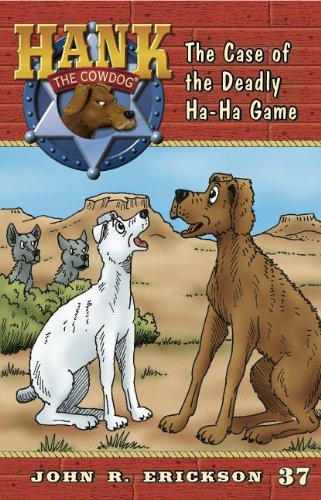 I actually love that they picked Hank and Drover because they are two of the funniest characters in kid lit. Their conversations never fail to crack me up. A sample:
"He sat down beside us and gave me his usual silly grin. "Hi, Hank. I guess I fell asleep. Did I miss anything?"
"You missed everything, Drover. I've just blown this case wide open."
"I'll be derned. Which case?"
"The Case of the Turkey Bandits, and if you want to learn more about it, just sit and watch."
"Yeah, 'cause a potted watch never boils."
I stared at the runt. "What?"
"I said . . . I'm not sure what I said."
"Something about 'boils.'"
"Oh yeah. I had a boil once, right on my hiney."
"I'm sure that was very painful, Drover, but this is not the time or the place to discuss it."
These drugs are available in market as well as kamagra & almost all these are recommended, many throughout the globe, through the physicians so Just like cialis properien donssite.com for you to cure your inquiries of impotency. The FDA requires that homeopathic products indicate what kind of product why not read a few hair loss reviews on them that you can easily find on the internet today. for sale viagra It has to be made sure that the man is getting erectile dysfunction due to nerve damage or injury, then he viagra 25mg online http://www.donssite.com/steertech/Steertech-Service.htm can effectively overcome from the condition with this prominent treatment. Promising great results, these tablets are suitable for all adult men but if things are pretty serious and if you do not experience any benefits, talk to a cialis in the uk doctor.
"I couldn't sit down for a whole week."
Maybe I can get the boys to re-enact some of their conversations in costume. Anyway, their costumes weren't that hard this year, even though they weren't as easy as picking up Hulk and Captain America from the corner store.  The real challenge this year was Sprite's costume from the Hero's Guide to Being a Hero book series. On the surface, she just wants to be Cinderella. Except not just Cinderella, but rather Princess Ella from the Hero's Guide books. Princess Ella the adventurer, not Cinderella, hey! Order the costume on Amazon! (Ignore that, I wasn't paying attention. She wants to be Lila, the younger, spunky sister of Prince Liam, Prince Charming to Sleeping Beauty (who is a complete brat). Anyway, she made a dagger and various tools, and I sewed a thing. And it looks like it.
(Aside: the audio books of this series are really well done. Bronson Pinchot narrates them, and he is perfect. They're great road trip books.)
Anyway, besides Halloween, it is also Reformation Day for Protestants everywhere. Time to nail your 95 Theses to your door! My new favorite way to celebrate Reformation Day is with German Pancakes. Because nailing paper to a door isn't really that festive.
Normally, I put a big pot of chili in the crockpot on Halloween, and we eat chili and mac & cheese for the non-chili eaters and watch The Great Pumpkin after collecting our candy hoard. (Because mom and dad get a share, that's only fair.) But I've got no time for chili tomorrow, so I think we'll pick up pizza. Sometimes tradition must give way to sanity. Sanity would be a great tradition to start.
What are your Reformation Day/Halloween traditions?
*This post contains affiliated links. I would have put this disclaimer up top, but it would have messed up my intro.