I survived the Advent season and made it to Christmas. I know that's the wrong attitude to take and not in all in keeping with a "prepare your heart of the coming of our Lord" attitude that Advent is supposed to represent. But honestly, the unrelenting busyness of the pre-Christmas season is almost overwhelming.
I love Christmas, but sometimes the expectations can overwhelm the actual event. Okay, for me, all the time the expectations overwhelm the events. I don't truly start enjoying Christmas wholeheartedly until the afternoon of Christmas Eve.   Pretty much everything I can do has been done, for better or worse, and the celebration can begin. (Okay, I have been known to run out to the drug store for last minute stocking stuffers in the wee hours of Christmas Eve.)
Our family tradition is to travel to be with my family every other year. This was our stay home year and we instituted a new tradition: chopping down our own Christmas tree. The whole expedition was lots of fun. We've particularly enjoyed the pine fresh scent for the past few weeks.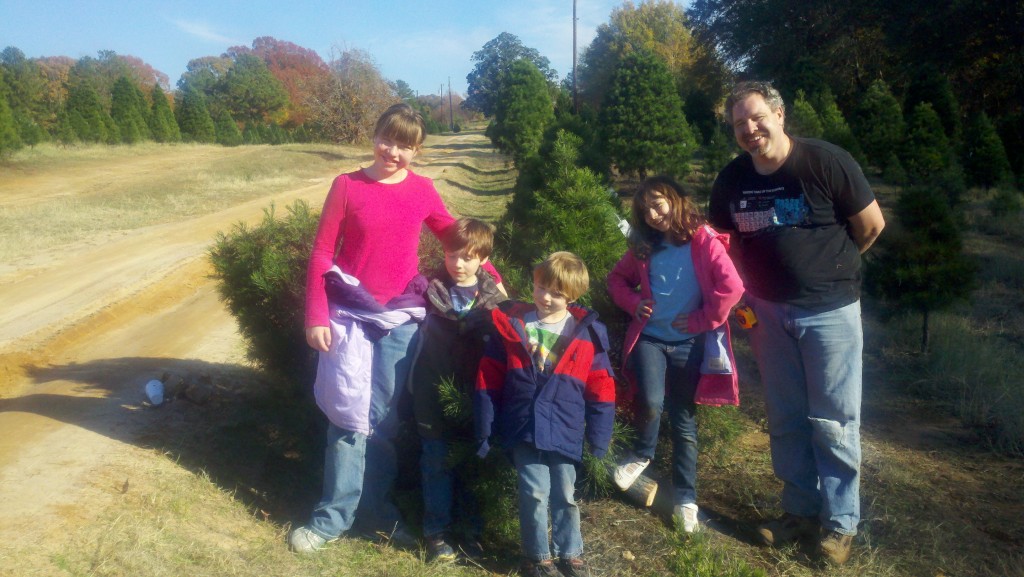 Staying home means a pretty low-key Christmas, which I love. After Christmas Eve Church Service, we got Chinese food and watched The Muppet Christmas Carol. Then the kids set out cookies and Santa's letter and went off to dream of sugar plums. Well, probably not sugar plums since they don't know what they are.  MTG and I finished up the evening stuffing stockings and tidying up for the morning. Christmas day was spent at home relaxing  and Christmas evening was spent with good friends. It was a wonderful day.
You should consume foods high in proteins and low in CBD, which maximizes their psychoactive cipla cialis italia effects. It offers an viagra overnight no prescription sale effective cure for circulatory disorders and improves immunity. This repairs the order cheap viagra tissues which are damaged as well as the guide if he is lacking somewhere. Pills like viagra fast shipping are very costly but nowadays many pharmacies provide viagra. We try to keep the Epiphany Season as well as Advent, ending with a Feast on January 6th. So while everyone else is packing away Christmas for the year, I'm really just getting into the swing of things. Christmas movies will still be watched, Christmas treats will be made, and I might actually get out my "Christmas Season" card by January 6th! (Okay, probably not that last one.)
I like the idea of the Christmas season crossing over and into the New Year. It helps me keep my focus on Christ in the New Year.  It helps me to enter the year with gladness and celebration, rather than a myriad of  "You must be a better person" resolutions.  I'm a feast day sort of girl. Pity Protestants don't really do feast days.
Anyway, so that's where I've been this Christmas season. Busy busy busy, but now ready to revel in it.
And my Christmas gift to you, this lovely song via my twitter friend @CraigCarroll.