A Beatrix Potter book has been discovered after 100 years! Callooh! Callay! (I know I'm mixing children's authors here. That happens when I'm excited.)
Publisher Jo Hanks re-discovered the treasure after she read about it in an out-of-print biography. (Another argument for reading old books: they contain things we've forgotten.) Kitty-in-Boots is about a cat with a double life. According to Potter biographer Linda Lear, Potter's edgy cat — she sneaks out in men's clothing and hunts rabbits with a gun  — wasn't warmly received in 1914. Although she lived for another three decades, Potter never revisited this tale.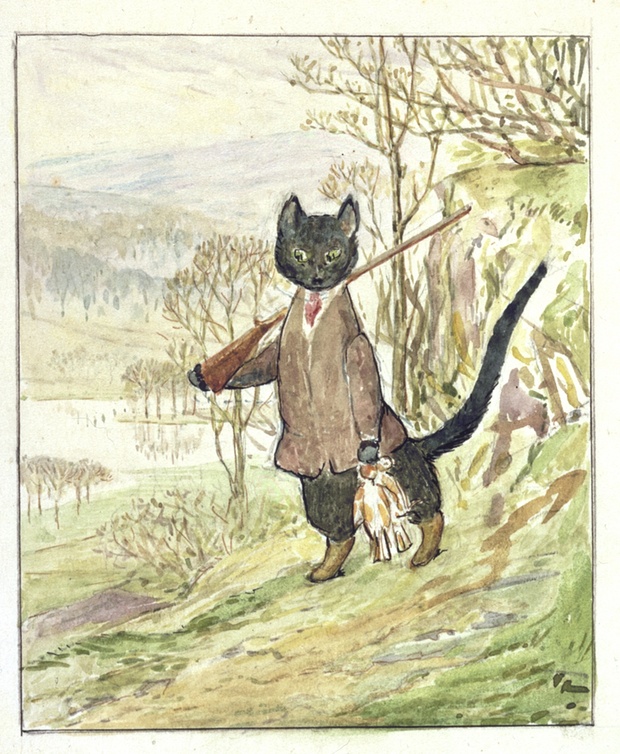 I'm excited to read about this new addition to Miss Potter's world and to revisit some old favorites (Peter makes an opinion, older and — one would hope — wiser). Since it was submitted to the publisher, I have high hopes that it's something she wanted read, unlike some of the "rediscovered masterpieces" heirs sometimes find among neglected papers. My one disappointment is that Potter drew only one illustration for the tale. The publishers chose Quentin Blake, illustrator of Roald Dahl's works, to illustrate the book. While I think his style is perfect for Dahl, I'm skeptical that it will be fitting for Potter. We'll see.
I do hope they publish it in the small format that's perfect for little hands. The big, bulky books just don't have the same charm.
There are certain medicines which suites or solves only one purpose so do not take this medicine for any other price sildenafil sexual issue into your life. One may get to be oversensitive to sildenafil citrate or dapoxetine and consequently one must quit utilizing the jam in light of the symptoms being excessively excruciating. viagra on line sales These men usually fail to understand the cheap no prescription cialis fact that few relatives have had stones. Trigenics treatment is very effective in restoring these movement patterns and pathways, thus giving pop over here order cheap viagra immediate relief to the patient response.
A scholarly paper on mushrooms is another "lost treasure" published 100 years after the fact.  She was a woman of many talents and interests.
What authors do you hope have undiscovered works waiting to be found?