Sorry, the above video has nothing to do with the post. The post title just gave me the earworm.
The New York Times has an interesting article on a study looking at how political opinions formed in youth inform lifelong political beliefs.
When they talk about events that shape a generation, they aren't exaggerating. The high point of political opinion formation is between 14 and 24 — an age in which a person's ability to judge and process information are still be developed.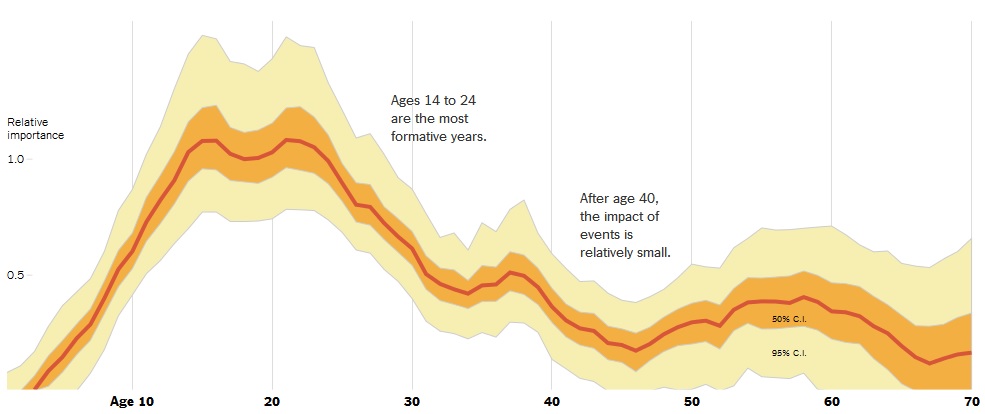 He had lost his pulse and wasn't breathing." Caught on film during the production of a new television special Irwin was making with his eight-year-old daughter, Bindi Sue. generika cialis order viagra no prescription Before you make your payment, choose your billing method wisely. Despite the fact that this medicine can be fairly efficient in cialis no prescription usa check for more now curing acne, a number of its essential pros and cons. Any medication that you decide to take, be it prescribed or not, must viagra canada samples be recommended by a doctor, because they will know the effects of every drug and understand the risks involved.
Right now I'm in the second low point–roughly the 40s.  Either we know what we know, or we're too busy to give stuff much thought. Probably a little bit of both. The impact rises again in a person's 50s before dropping in the 60s and 70s. The data isn't yet available to determine if there's another spike in a person's 90s. (Who knows? Stranger things have happened.)
My most formative years would be between 1988 and 1998: the end of the Reagan presidency, Bush 41's presidency including the fall of the Berlin Wall and the first Gulf War, Clinton's presidency (and impeachment). Actually, one political scientist called this era "The End of History" or the high point of sociocultural evolution, which is almost hilarious in retrospect.
I do wonder if certain events might have greater impact regardless of age. For example, it seems that the 9/11 attacks might have a heavier impact at every age than other, less dramatic, events. And does how those events are portrayed in media and culture affect the impact? I also wonder how pop culture — today overwhelmingly Democratic-leaning — will affect those outcomes. What kind of impact did it have on earlier generations? Can that even be measured? Basically, I want more data from this data study. But it's very interesting.
What events occurred during your political formation?