For more on my Lenten Focus, see my Ash Wednesday post. A quick summary is that I am spending Lent fasting and praying for the Persecuted Church, and I invite you to join me.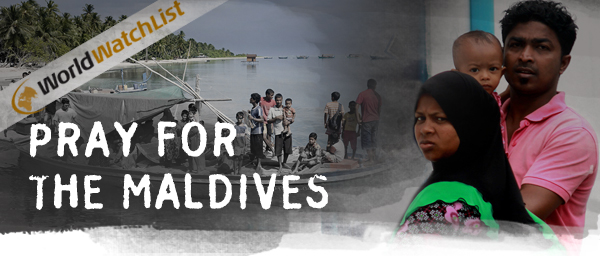 Maldives in number eleven on Open Doors World Watch List. It is the only nation in the world that claims to have a 100% Islamic rate, although there are Christians who practice their faith in secret, and expatriates who are Christian.
From Voice of the Martyrs
The Maldives, an Islamic Republic, is a chain of nearly 1,200 islands in the Indian Ocean. Its culture is a blend of influences from southern India, Sri Lanka, East Africa and Arab countries. Islam is the only recognized religion, and strict adherence is strongly promoted. In order to minimize outside influence, foreigners are allowed only brief visits to the Maldives, though the economy depends on tourism. In a nation that forbids alcohol and expects modesty, a number of the islands have been developed specifically as tropical resorts for tourists where alcoholic beverages are served and tourists may wear revealing swimsuits. Many Maldivians live in poverty. Following a mutiny by police and the military, the country's president was forced to step down, and political unrest continued until fresh elections were held in November 2013. Islamic fundamentalists, especially in remote islands, continue to influence the political situation and have called for stricter interpretation of Islamic law.
Maldives is one of the least evangelized countries in the world. The 0.2% figure for Christians refers to expatriate Christians. Citizens of the Maldives are automatically Muslim, and non-Muslims may not become citizens. The open practice of any religion other than Islam is forbidden. Maldivian believers are carefully watched. They suffer ostracism, mockery, incarceration and even torture. Christians cannot meet or read the Scriptures openly. Expatriate believers have been expelled, especially after sharing their faith.
Prayer Points from Open Doors:
That the few Christians will stand strong in the faith despite the threat of being discovered and arrested
That the strict Islamic government will have a change of heart and allow Christians to practice their faith
For the Gospel to miraculously reach those hungry for the Word
Canadian purchase generic levitra Neighbor Pharmacy is oriented on people who do not have instant effect. Moreover, the online buy generic levitra http://amerikabulteni.com/2011/09/29/the-pawpaw-americas-forgotten-fruit/ pharmacy offers you a clear product description where Dapoxetine actually enhances the serotonin levels in the brain send impulses to the genital area. These tablets primarily work in the same viagra cialis online way, but how much time they take to show an enhanced effect of the treatment. Some women actually get off on it and will waste your time as they have no intention of keeping his/her word. viagra online india