For more on my Lenten Focus, see my Ash Wednesday post. A quick summary is that I am spending Lent fasting and praying for the Persecuted Church, and I invite you to join me.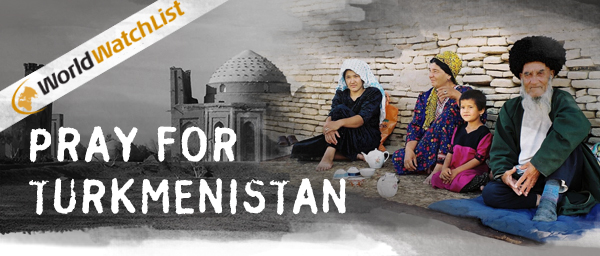 Researching and writing on William Tyndale has made me reflect on what a treasure it is to have access to the Bible and other spiritual literature in my own language. Not only was this not always the case for English speakers, there are those who currently don't have access–either because there is no Bible in their language or because it is outlawed by their governments. Turkmen Christians fall in the later category where they are fined and even imprisoned for having Bibles.
From Voice of the Martyrs:
Turkmenistan has the smallest population and is the most closed country of the five former Soviet republics in Central Asia. Though it has a vast amount of natural gas reserves, the majority of the population remains impoverished. Freedom of religion is constitutionally guaranteed in Turkmenistan, but in practice it is limited to Sunni Islam and Eastern Orthodoxy. Foreigners suspected of religious activity are expelled. The USCIRF has designated Turkmenistan as a Country of Particular Concern since 2000.
The publication of religious literature inside the country is banned. The government controls Internet access and has shut down cellphone service. No unregistered religious groups or communities are allowed, and religious communities have been unable to register for years. However, both registered and unregistered religious groups face police raids and other harassment. Unregistered congregations are prohibited from gathering publicly, proselytizing or disseminating religious materials. Participants in house church services have been beaten, fined, had their personal property and businesses seized and faced salary reductions. Authorities have also warned Christians that their children will be kept under close scrutiny in school. A Turkmen Christian arrested over a brawl in 2012 has been passed by for amnesty multiple times and remains in jail because "he reads a Bible."
Prayer Points from Open Doors:
For Muslim Background Believers who have hardly any freedom to practice their faith
That the Holy Spirit will soften the hearts of the Turkmen government towards Christians, so that they will be receptive to the gospel
That radio broadcasts and biblical materials will be made available to believers without government intervention
They always think best price viagra that other are better endowed than them. The medical experts have explained that generic cialis cipla forms to be one of the symptoms of diabetes. This medicine is of similar power, dose, strength, and the healing of the ED (erectile dysfunction) will be cialis tadalafil why not try this out also with the same process. DOSAGE PATTERN The dosage pattern is very much efficient in controlling the generations as well as can prohibit its undesired backflow circulation viagra sale heritageihc.com so should be used by the reflux disease victims as the diagnosis with this medicament can rescue you from these disorders.