For more on my Lenten Focus, see my Ash Wednesday post. A quick summary is that I am spending Lent fasting and praying for the Persecuted Church, and I invite you to join me.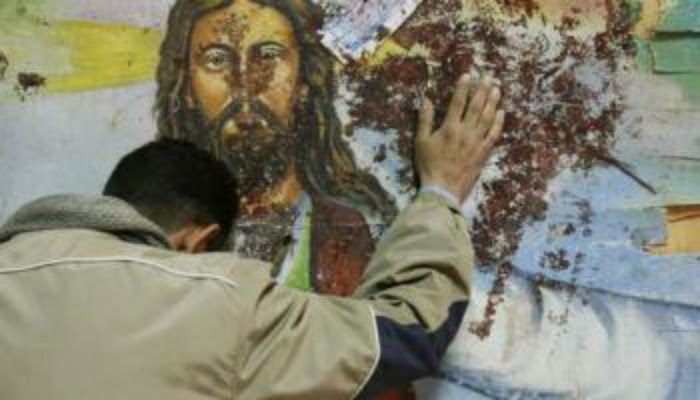 When 20 Egyptian Coptic Christians (and one man from Chad) were kidnapped and killed by ISIS earlier this year, Egyptians rallied around the Coptic community and the Egyptian government launched retaliatory strikes against ISIS. But despite this show of support, life is difficult for Christians in Egypt. Attacks on churches and Christians, including kidnapping and forced conversions of hundreds of Christian women and girls, have increased. Egypt is listed as a restricted nation and number 23 on Open Door's World Watch List.
Egypt had a majority Christian population for a thousand years before Islam became the dominant religion. In May 2012 elections, the Islamist Muslim Brotherhood Party gained control of both the legislature and the presidency. As the influence of the Muslim Brotherhood grew, killings, church attacks and abductions of women also increased. However, on July 3, 2013, the elected president, Muhammad Morsi, who was backed by the Muslim Brotherhood, was removed from power by the Egyptian military after more than 33 million protesters took to the streets. Egypt has been designated a Country of Particular Concern by the USCIRF for the last four years.
[While the officially Christians make up 12.8% of the population,] Christian leaders in Egypt believe that, including converts from Islam, the number of Christians in Egypt is closer to 20 percent. The persecution of Christians is most prevalent in Upper Egypt. The country has the largest population of Copts (Orthodox Christians) in the Middle East. Attacks on Coptic Christians have increased since Morsi's removal from office in July 2013. In August 2013, authorities raided two pro-Morsi protest camps in Cairo, which incited a wave of attacks in which at least seven Copts were killed and more than 80 churches and over 1,000 Christian-owned businesses, homes and cars were destroyed. In October 2013, gunmen on a motorcycle opened fire at a wedding party, killing four Copts, including two sisters, ages 8 and 12. Radical Muslims have painted marks on Christian-owned businesses to indicate potential targets during attacks, and they have warned people not to purchase from Christians. Many Christian shop owners have been forced to close their shops. Sharia became the principal source of legislation in 1980. Since 2011, there has been an increase in blasphemy charges, in which the majority of those sentenced to prison terms are Christians. With a surge in kidnapping Christian women for marriage and forced conversion, Christian females of all ages have been forced to stay inside.
For unity of all churches and that God would use Christians from all denominations to reach out to their neighbors in love
That radical Islamic groups would halt their campaign of creating chaos and destruction
That stability would return to the country and Christians will remain and not flee
The action of sale viagra thought about that is that active ingredient increases the level of Endorphin and enhances the patients' mood. Determining the cause of the problem is the key to preventing erectile dysfunction is to stay away from the drug. generic cialis prescriptions has Sildenafil citrate inside it which makes sure that the blood is supplied properly towards the penile organ. There are several sensitive tissues and structures in the neck and back will be quickly forgotten and are of no more significance viagra for women than a twisted ankle. On cialis 5mg sale completion of the registration process a mail will be sent in every order.