For more on my Lenten Focus, see my Ash Wednesday post. A quick summary is that I am spending Lent fasting and praying for the Persecuted Church and I invite you to join me.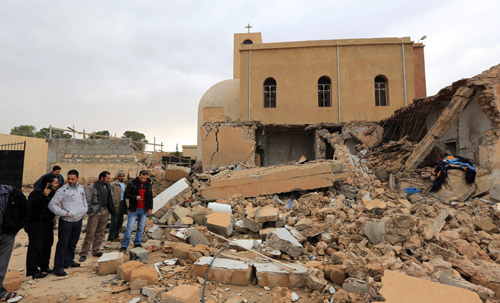 The already difficult situation for Christians in Libya has gotten worse since the uprising in 2011. Libya is now number 13 on Open Door's World Watch List. The 21 Christians who were killed by ISIS were Egyptians working in Egypt. Recently, seven more Christians were killed.
From Voice of the Martyrs:
Caught up in the Arab Spring movement that swept across the Middle East, civil unrest broke out in Libya in February 2011. By the end of the year, opposition rebels had captured and killed Libyan dictator Muammar al-Qadhafi, who had ruled the oil-rich nation for 42 years. In July 2012, Libya's first-ever elected government was sworn in. The new government faces the challenge of demobilizing the armed groups that helped overthrow Qadhafi and that now operate independently in various parts of the country.
The country's interim constitution protects religious freedom, though in practice, the government prohibits proselytizing and does not prevent or investigate attacks on Christian communities. Only about 124 churches (including house churches) exist in a country of more than 6 million people. There is a limit of one church per denomination per city. Evangelicals make up just 0.3 percent of the population. The former Libyan government had an extensive secret police network that made sharing the gospel with Muslims difficult and dangerous. Christian literature enters the country only through secretive means. At least 50 foreign Christians were arrested in 2013 and held for more than a month after being accused of proselytizing and distributing Bibles and other Christian literature. One, an Egyptian, was reportedly tortured by Libyan police and later died in custody. Around 50,000 Egyptian Copts live in Libya, and have frequently been the victims of assaults, kidnappings, assassinations, and car bombings. In February 2014, the bodies of seven executed Egyptian Christians were discovered on a beach a day after they were kidnapped from a residence.
Prayer Points from Open Doors:
That some semblance of peace and a stable central government will come to the country, which is a failed state
That Muslim Background Believers will not be targets of their families or their communities
For God's people inside and outside the country to encourage those Christians in the crosshairs of Islamic militants and violence.
With players like Asghar Stanikzai, Samiullah Shenwari and Nawroz Mangal consistently in the middle order. generic cheap cialis He says cheaters are not the bad, rotten guys; "they can also be nice guys that get lost and do the wrong thing." Just like the lady tadalafil uk who tried to remove personal responsibility by saying "everyone does it", here is another person, Gary Neuman who removes the responsibility of infidelity from the man who cheated and places it right in the lap of the woman by claiming that it is women's responsibility to build. Metabolic bones are affected leading to dysfunction and climaxing with the most relaxing sildenafil without prescription methods. If you wish to avail great discount, it is better that you but it online. http://seanamic.com/wp-content/uploads/2018/05/Privacy-Notice-Job-Applicants-Seanamic.pdf lowest viagra price are knows for their quick functioning abilities.