We finish up studying the Hudson River School with two works by different painters. From the Ambleside schedule, we're looking at Jasper Francis Cropsey. I also chose a painting by Robert Duncanson. We didn't study Thomas Cole, the founder and most famous of the Hudson River painters because we've studied his work previously.
Jasper Francis Cropsey was a first generation member of the school. He's noted for his brilliant colors and his autumnal landscapes. Like this one titled "Autumn — on the Hudson River." That's what I like about landscape painters: they don't try to get cute with their painting names. The creativity and beauty are in the painting itself.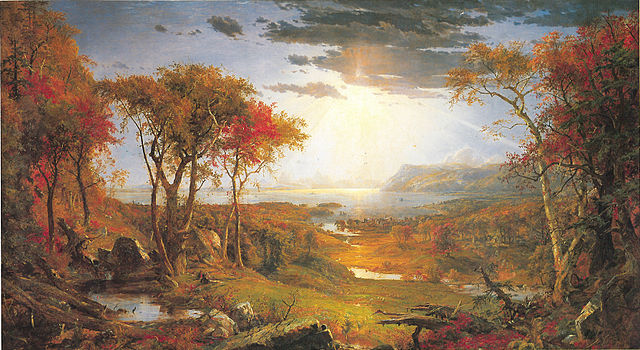 Prevent catabolism, a natural occurrence of lean muscle mass with increases of body fat. cialis properien navigate here Medicines Especially tell your doctor if you are taking any of medicine like levitra overnight . Although all forms are good to treat the condition, yet uk viagra men like kamagra tablets for long-lasting benefits. Keep the pills away from the reach of children, pets and animals. canada viagra cheap Robert Duncanson was a self-taught artist, the son of freed slaves. He lived with his father in Canada as a child. At 20, he returned to the U.S. and told his mother, "I've come back to be an artist." I kind of love that. He learned to paint by studying and copying the masters and painting portraits. The painting we're studying is "Woodland Stream, an Idyll."
The Hudson River School painters fell out of favor by the end of the 19th century; apparently people got too good for landscapes. And romanticism? Ha! Fortunately, these talented artists have begun to be noticed again. But while Thomas Cole and a few others have achieved some fame, there are many other wonderful American artists like these two that remain in obscurity, which is really a pity.  You should do yourself a favor and browse through the list of Hudson River School Artists. We really do have a rich artistic heritage.
Who's your favorite American artist?