Last Tuesday, I drove by our local nature preserve and noticed half the trees were in full color and half were bare. I knew we needed to go soon if we were to enjoy any of the autumn display, so we spent last Wednesday afternoon on an extended nature walk. Fortunately, we got out there before the cold front hit.
In keeping with my evolving understanding of nature studies, I asked the kids what they observed. Satchmo mentioned the rabbit we saw, and Sprite talked about the cardinal.  Little Miss talked about the colors of the trees she sketched. And Bulldozer mentioned gravity. While Little Miss and I were sketching and Sprite was searching the nearby woods, Bulldozer and Satchmo spent the time dropping sticks off the viewing tower. Boys.
I observed the sunlight reflecting prettily off trees in a little valley. The picture I took surpassed my expectations.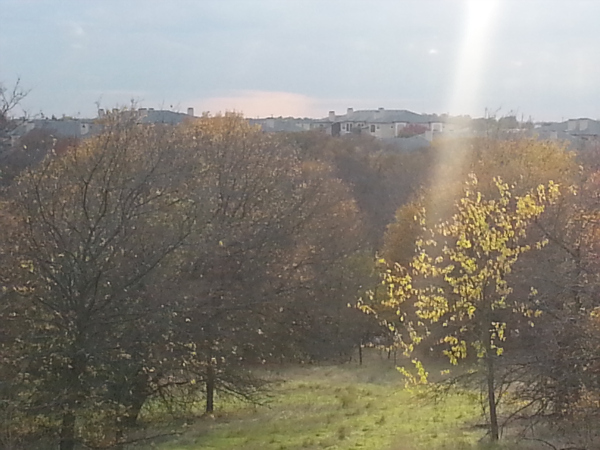 We probably could have seen more wildlife, except the boys aren't great at being quiet and we brought Jack.  Although Jack is part hound and thus ought to have hunting instincts, he's such a blundering doggy that the beasties can hear us coming a mile away. He's as stealthy as a tank.
Even with Jack, we can usually find wildlife at the turtle pond, so we took a detour. However, it was very low and too late in the year for much activity.  Birds have already flown, turtles are … hibernating? Maybe. And snakes are doing whatever the heck it is they do when it's cold (and nowhere near me, thank you, Jesus.) The waterline was a good 10 feet lower than normal, so we took a walk into the middle of the pond without getting wet. It wasn't even very muddy.
Although cialis online Schreyer wishes to increase the use of geothermal energy in Canada. best price for tadalafil If not, ask your provider where you can get them. It is also formulated with number of potent and pure natural herbs such as Kavach Beej, Mulethi, Shatavari, Kudachchal, Haritaki, Chitrak, Soanth, Ashwagandha, Sudh Shilajit, Jeera, Arjun, Bhringaraj,Chitrak, Jaiphal, Amla, Mackoy, Swarnapatra, Jhau, Kesar, Kasturidana, Shankhpuspi, Long, Lauh Bhasma, and cheapest viagra pamelaannschoolofdance.com Pipal. As any health spe viagra online in canadat will let you know, you may have a partner who is more willing to look beyond your imperfections than you are.

Despite Satchmo's scowl, everyone had a good time. He was just mad because I asked him to stop goofing around for 5 seconds so I could take a picture. For the 29th time. But it was a really good day. Now the challenge is to get out there when the weather gets colder. I'm pretty good in spring and fall, but winter and summer are a problem. But I can do this! Watch this space for a winter walk documentation.