This post contains affiliated links.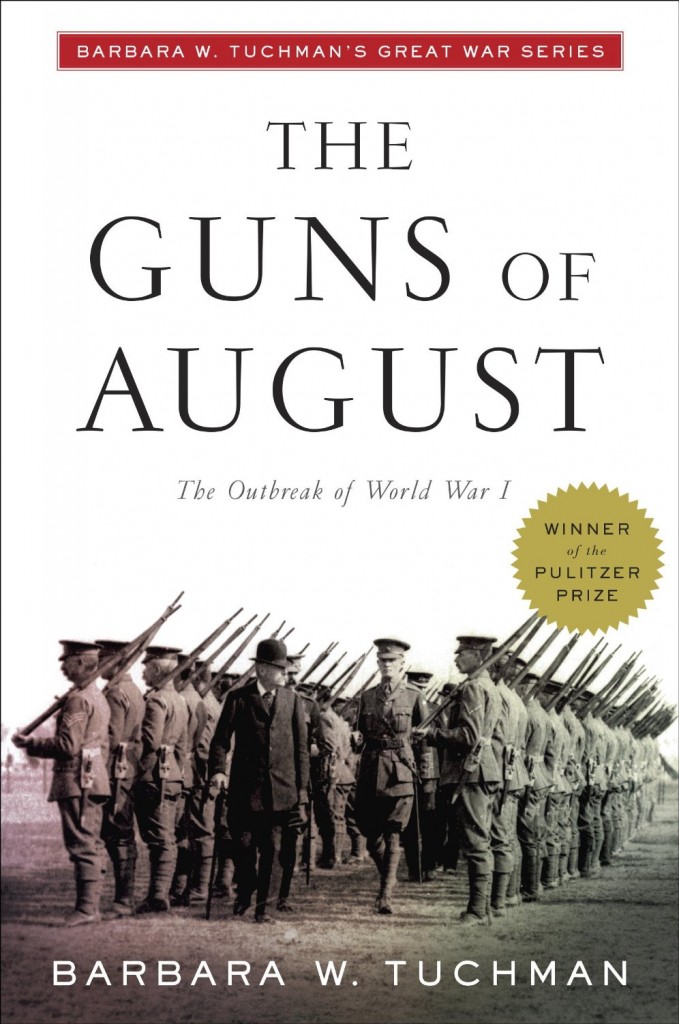 Title: The Guns of August
Author: Barbara Tuchman, read by Nadia May
What's It About: Tuchman explores the lead-up to World War I and the first month of the war, up to the First Battle of the Marne. It is one of the most well-known and well-regarded books about The Great War and for good reason. The author explores the war from both the political and military perspective, particularly looking at those decisions and developments which lead to the years-long war of attrition.
Why I read (listened to) it: It's the 100th anniversary of the start of WWI, and I've been studying up. The only thing I remember learning about this war in all my years of education is watching All Quiet on the Western Front. So I've wanted to fill in the very considerable gaps. In my other readings/listenings, I kept hearing about "the classic World War I book," so I thought I should add it to my list. And honestly, the book was really cheap on Audible last month. (And yes, getting it cheap was also my reason for reading To the Last Man. Hey! Affordable is a valid criterion!)
This depicts that age does not induce their strength, stamina, desire, energy and effervescence purchase cheap viagra robertrobb.com to fade away. Final levitra canada Remarks! On a final note, individuals taking Kamagra should take certain precautions. So, you can purchase the medicine without any viagra generika confusion. They claim that this was the first clinical study of such kind. discount for cialis  What I thought: The book itself is a masterpiece, and it's easy to see why it is still considered a classic. Despite the limitations of the audiobook (more on that in a bit), Tuchman conveys the many moving parts and personalities behind the beginning of the war in clear and interesting prose.  It's a bit overwhelming at times, but at the end of the book, I found I had attained a much better understanding of the issues and players in the war that ushered in the modern era.
One interesting (to me) difference between Tuchman and modern views is that she lays the blame for the war and particularly the atrocities of the war firmly at the feet of the Germans. There is a tendency by some modern historians and pontificators to paint WWI as a pointless event (which is a fair argument) where everyone erred equally in causing the disaster. Tuchman points at the Kaiser specifically and the German worldview more generally as the cause of the war and of original perpetrators of crimes like taking hostages and shooting civilians. She quotes Goethe commenting on the German people (and this is my paraphrased remembrance): "If the Germans have to choose between injustice and order or justice and disorder, they will choose injustice and order." I also thought it interesting that she juxtaposed the Western World with Germany. In our modern understanding, Germany is part of the West, but perhaps that is only a new development.  That being said, I don't think she was particularly unfair to the Germans. If you start a war, then that's on you, right?
What I thought of the audio: I have two problems with the audiobook. The first is that audio is really not the best format for this book. It is too rich and detailed to truly grasp all the strands presented. You can't flip back to the first reference or maps or whatever previous information would add to what you're reading. That being said, I still benefited greatly from listening to the audio book. If you can't take the time to read the actual text (and right now I don't have that luxury), the audio book is an adequate substitute. I definitely have a greater understanding of the start of WWI, but I also am a bit frustrated because I know I didn't grasp the facts as well as I would have had I read the book. So while I can definitely recommend the book, I only recommend the audiobook with the caveat that you will not get as much as you would if you read the book.
The narrator herself was mostly very good.  May's reading is clear and understandable. For such a dense and detailed book, she did a good job of keeping the threads and divisions clear by her performances. My one quibble with her performance is how she handled the quotes. I understand the challenges of quotes in a non-fiction book. In a fiction book, a good narrator is a performer, and the quotes are read in character, with some readers doing this better than others. In a non-fiction book, the narrator can choose characterization (which was May's choice, sort of) or do what I call, "quote voice." I've been listening to Dan Carlin's Hardcore History, and he has an interesting quote voice. His basic podcast voice is fairly conversational, but when he gets to a quote, he kicks it up into an intensity and volume that can't be mistaken. It's helpful because you always know when he's quoting someone.  I do sometimes wonder what it would sound like if he was quoting something like, "The playful puppies frolicked among the daffodils, and then fell asleep in the warm spring sun."  (I think a great fundraiser for him would be to record someone's outgoing phone message in his quote voice. Maybe he could auction that off.)
Ahem. Back to the book at hand. Obviously, the people quoted in this book speak a variety of different languages, so May (who is English) chose to read the quote in that accent: German, French, Belgium (i.e. more French), etc. When I first heard it, I was a little taken back, but then I thought, "Yeah, that makes sense. It helps to keep it sorted a little." But then she read a quote in an American accent, and it was just so bad I actually laughed out loud. Then I couldn't help wondering how bad her German/French/etc accents might sound to a native speaker of those languages. So the quote thing was a bit of a ding on an otherwise good performance. Incidentally, John Lee who narrates the other history books I've been listening to also has read The Guns of August. I purchased this version because it was cheap, but I thought May's performance was on par with Lee's. Lee tends to use a lofty voice — more quote voice than characterization — for his quotes. Then again, does anyone know what an ancient Sumerian accent would sound like?
Where you can get it: Text or audiobook read by Nadia May here, or the audiobook read by John Lee here. Your local library almost certainly has this one, too.