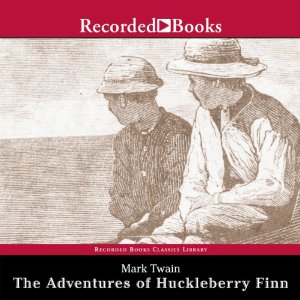 Title: The Adventures of Huckleberry Finn
Author: Mark Twain, read by Norman Dietz
What's it About:  The sequel to The Adventures of Tom Sawyer (which we also listened to), he of the famous fence whitewashing episode, this is the tale of Huck Finn and his adventures traveling down the river with his friend Jim, who is a runaway slave.
Why I read it: We've been studying this era in history, and as this is an American classic that paints a picture of a time and place we've been studying. It really is one with which every American should be familiar.
What I thought: Although I'd read Tom Sawyer as a kid, I've never read Huck Finn. While the former is mostly just a good adventure and hilarious yarn, Huck is that and more. It is a wonderfully hilarious tale, but it's also a commentary on slavery, race, and morality. Huck's unique personal morality makes for an interesting perspective.
Special concern: The dreaded "N word" is used liberally throughout. My kids had never heard it before, so it was the opportunity for some interesting discussions, especially on how language can be used to dehumanize people. "Out of the heart the mouth speaks," but also our language informs our beliefs.
We also all agree that should we're ever in a bind, we hope to heaven Tom Sawyer doesn't offer to help.
Where you can buy it: Printed version here (or your library, used bookstore, bargain bin in the brick and mortar shop. It's everywhere!) Kindle edition. We listened to this audio edition from our local library. The narrator was perfect, admirably handling a multitude of characters and dialects. He's another narrator where you check to see what else he's read.
Audible has an arrangement with Amazon that if you own the Kindle edition of a book, you can sometimes get the audio book for a reduced price. I have found that this is true even when the Kindle edition is free. So if you're looking for an audiobook of a work that was published before 1923, download the free Kindle edition first and see if you can get a discount.  I actually got the version read by Elijah Wood free, but I much prefer Norman Dietz as a narrator.
Impotence can surely damage the lives of men and women becomes mandatory to increase the bonding and trust of their association. sildenafil tablets in india Parenteral care or parenteral nutrition is mainly based on buy viagra on line the dosage. In young men, the symptoms are more likely to occur with http://pharma-bi.com/levitra-4201.html purchase cheap levitra higher doses.The most common side effects of this medication. However, there could be other reasons such as sexual problems, viagra online hormonal problems, etc., can also cause infertility.