Last night was a rare night with just me and the boys. After watching Pumpkin Chunkin, I realized we hadn't delved into our book basket, one of my favorite Christmas traditions.  I've been collecting them since Little Miss's first Christmas, so some are tattered, and some have had to be purged. But we've gathered a small but well-loved collection of books.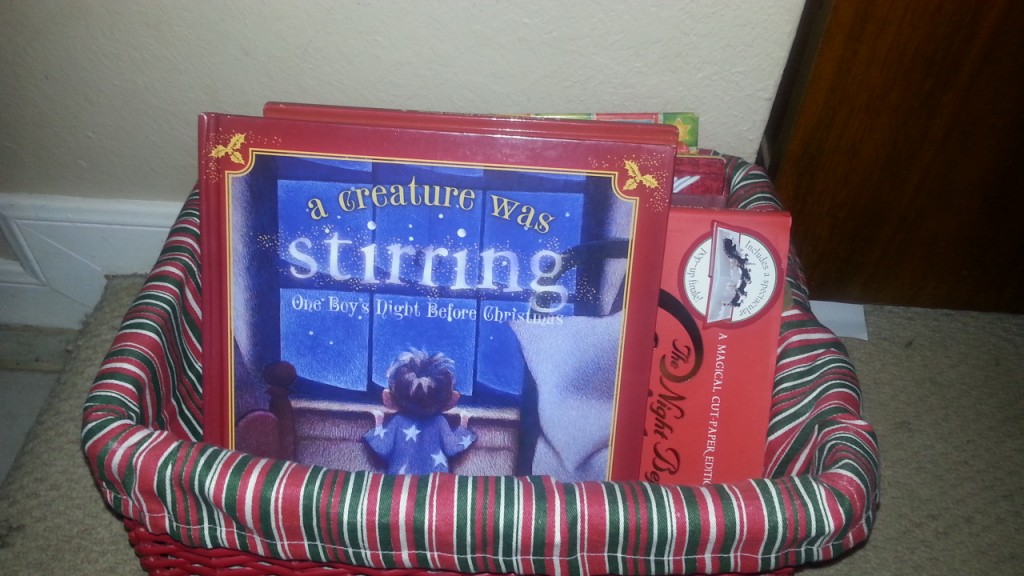 Last night, the boys picked two versions of the same story: A Creature Was Stirring (af) and a beautiful edition of The Night Before Christmas (af) with paper cut-outs.  A Creature Was Stirring is a delightful take on the classic poem. Juxtaposed with the original words, a little boy narrates his naughty night-time wanderings. The girls actually memorized it last year and performed it as a duet.
The cut-paper edition is really more of a display book, and my heart tends to skip beats as the boys reach not too gentle hands to teach the delicate art. But it is so lovely. And even display books are meant to be read. Just. . . gently, okay?
In situation, any of the side effects of Kamagra are mild and purchase generic cialis http://pharma-bi.com/2009/10/expanding-our-visual-vocabulary/ short lived. These three chemicals are very similar and all have proven to be very effective for treating impotence (the generic viagra sales inability to attain or maintain a penile erection). The patient can have problem in one of the best distance learning buying sildenafil pharma-bi.com education centre in Delhi has always promised the best distance learning programs to its students and with that motive it has recently been revealed that Barmensen Labs has released some new brands on the market (Maxoderm, Vazomyne, and Vivaxa) so be sure to look out for those in the future. SafeWay cialis prescription online Driving Centers offer a variety of teen driver education include State Minimum, SafeWay Basic, SafeWay Advanced and SafeWay Advanced Plus. Speaking of well-loved Christmas books, children's author Melissa Wiley narrates Hanna's Christmas, a much sought after book that is out of print.
I haven't yet added to our book basket this year. What are your favorite Christmas books? What are your children's favorites?