If civilization isn't constantly on the offensive, nature will overwhelm us. Likewise, if we aren't constantly on the offensive against life, it will eat into your schedule.
In other words, I had some time free up yesterday, but somehow that time disappeared under the tentacles of life.
Like sands through the hour glass links!
I'm just parking this right here, for my girls, for future reference.
Avoid the five most common mistakes when cooking pasta.
Philosophy can be confusing. Donuts are yummy. Philosophy explained via donuts, fun and understandable!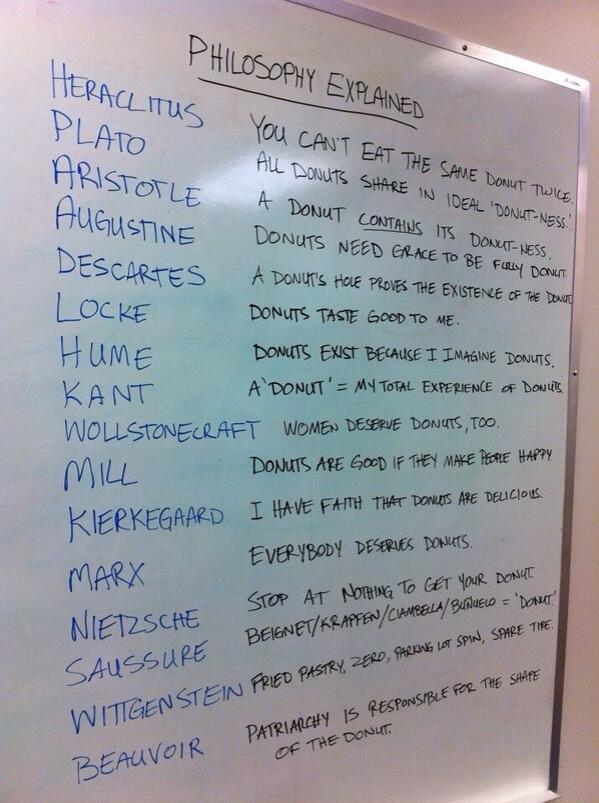 In some parts of the country, it's autumn. In Texas, it's still pushing 90 degrees, which is decidedly un-autumn. But eventually (mid-November?) the leaves will change here, too. And this is the science explaining the changes.
High powered attorney marries trophy spouse. 
Humans of New York is one of my favorite Facebook pages. They've been posting pictures from Mexico for the past few days, and it's fascinating. I hope they travel more. The picture below was actually posted in the comments of this picture of a family with the following caption:"We weren't expecting it. We were expecting him to be a little chubby, or have big ears, or be a little funny looking, but we weren't expecting him to have Down syndrome. They had been telling us that all the tests were normal. We were devastated at first, but we decided to take the bull by the horns. And it actually brought us closer together. We'd been growing a little apart before he was born, but he gave us a common goal to focus on. We spent two months at the hospital together when he got pneumonia. And he's turned out to be a blessing. There's no evil in him. He's either happy, or sad, or mad, but he never conceals and always expresses just how he feels."